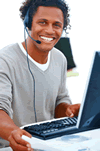 Live Online Training
Live Online
Live Online Public Courses
Live Online Private Courses

We offer private, LIVE online, customised courses, wherever you are!

Our one on one training is customised to suit your needs at your convenience.
This is a live course simply taught remotely; our certified instructor in one location and you in another.

We use applications such as Webex, Gotomeeting and Adobe connect to create a virtual classroom online.
This provides the same functionality as a regular classroom/training room. Namely you are able to view your instructor's desktop and talk to your instructor via a headset/mic (VOIP, similar to SKYPE), all in real time.
Naturally there are times when your instructor needs to view your desktop to assist you and this can be done only with your permission.

The dates and even times of the course are flexible based on your request and availability of our instructors.

Here are some benefits of a private online course:
1) You have a certified instructor all to yourself for the entire duration of your course
2) We go at your pace as it is a private course
3) The course is customised to your specific objectives and needs
4) The dates and even times are flexible to suit your schedule
5) There is no travel time or associated costs


Typically we need just 1 week's notice to schedule an instructor for a private remote course.

What do I need for my private online course?


Questions:
We have been teaching remotely since 2006 and our instructors have taught hundreds of courses online.
Any questions, click here.

Online / Remote training setup:
Computer setup:
Each student needs to have their own computer with the following setup:
1) Software application you are learning installed (Many companies offer a a 30-day trial version if you don't have the software)

2) A headset with a microphone (USB preferred)

3) If training alone, (not in a conference room with a large screen), a 2nd monitor connected to your computer is recommended but not essential. This would allow you to view your application and the instructors simultaneously. If you have a 27" monitor or larger, you could do the same.

4) If training together in a conference room, an extra computer can be used to login to the online meeting and simply display the instructor's / presenters computer on a large screen viewed by all attending. This would also allow each participant to view his/her computer screen simultaneously while watching the instructor's.

5) A 3MB/s or faster internet connection


6) Approximately 300MB of available bandwidth per 1-day course

Remote/online classroom software:
We typically use Gotomeeting (gotomeeting.com) to facilitate our online courses.
Prior to your course, you will receive a link to your specific meeting. This link is the same for all sessions.
Simply click on the link before your course (5 mins). It will prompt you to install a small Java app and will then load the Gotomeeting interface automatically. It displays a control panel on your right hand side (can be minimised and moved), and on your left you will view the instructor's monitor. The control panel displays all the attendees, your sound option, either using a headset or calling in to a conference number and also a chat window you can type in. When Gotomeeting launches and the control panel is available. Ensure your Audio options are set to "use mic and speakers" when using a headset.
This is a fully interactive course, taught real time by an instructor. We encourage your participation. If however you are not speaking, please mute your mic (an option next to your name in the control panel), as a courtesy to other attendees.
We do not use a webcam for teaching so unfortunately you won't see our instructor's head bobbing around. There really is no need for it and it can use quite a bit of bandwidth. If you do want your course recorded for later viewing, please ask your instructor at the start of your course. We do not record them by default.

Security issues
There is a very small chance that your organization has a firewall in place that does not allow Gotomeeting to install on your computers. If you are unsure and want to check this, please let us know at least 24 hours before your course so we can test it with you. We typically will use Webex which seems to work fine around firewalls. Course materials Course books are sent to students prior to the course. Depending on the instructor and the students, the book may not be utilised for the actual training. It is primarily used after the course as a reference if needed. In addition to the course book, you may also receive a link to download the course lesson files required for your course. This will be sent out at least 2 days before your course.